Welcome to DFW Markers
MEMORIAL MONUMENTS is a family owned and operated company located in Fort Worth, Texas. We have created the DFW MARKERS page to accommodate families who are specifically looking for FLAT MARKERS, BEVEL MARKERS or BRONZE on GRANITE MARKERS. Our designing, carving and etching is done in house so that we may insure quality and affordability.
All Flat Markers and Bevel Markers may be customized to tell the story of your loved ones life. We work with granite quarries all over the world to offer a wide selection of granite colors. A few of the granite colors we offer are Georgia Gray, Dark Cloud Gray, Charcoal Gray, Jet Black, India Black, Flash Black, Dakota Mahogany, Canadian Mahogany, Morning Rose, India Red, Sunset Red (Texas Red), Missouri Red, Blue Pearl, Bahama Blue, Pine Green, Emerald Green and may more.
Flat Markers and Bevel Markers may be designed to incorporate vases and photos.
Memorial Monuments also offers Bronze on Granite Markers.  Your Bronze on Granite Marker may be designed with or without a vase and with or without a photo.
Memorial Monuments services the DFW and surrounding areas. We will work with your cemetery to insure that the Flat Marker, Bevel Marker or Bronze on Granite Marker will fit the requirements of your cemetery.
Memorial Monuments is a proud member of the Southern Monument Builders Association, Texas Cemeteries Association and the Monument Builders of North America.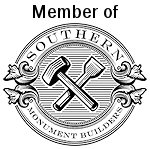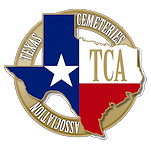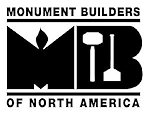 We offer headstones, monument headstones, granite headstones, grass markers, grave monuments, pet grave markers, headstones for graves for sale at affordable price. We offer various designs and colors, serving Fort Worth, Arlington and all of Tarrant County, Texas. Call 1-800-235-4573